It has been a while, but I am happy to be blogging live through this game. The lineups are out.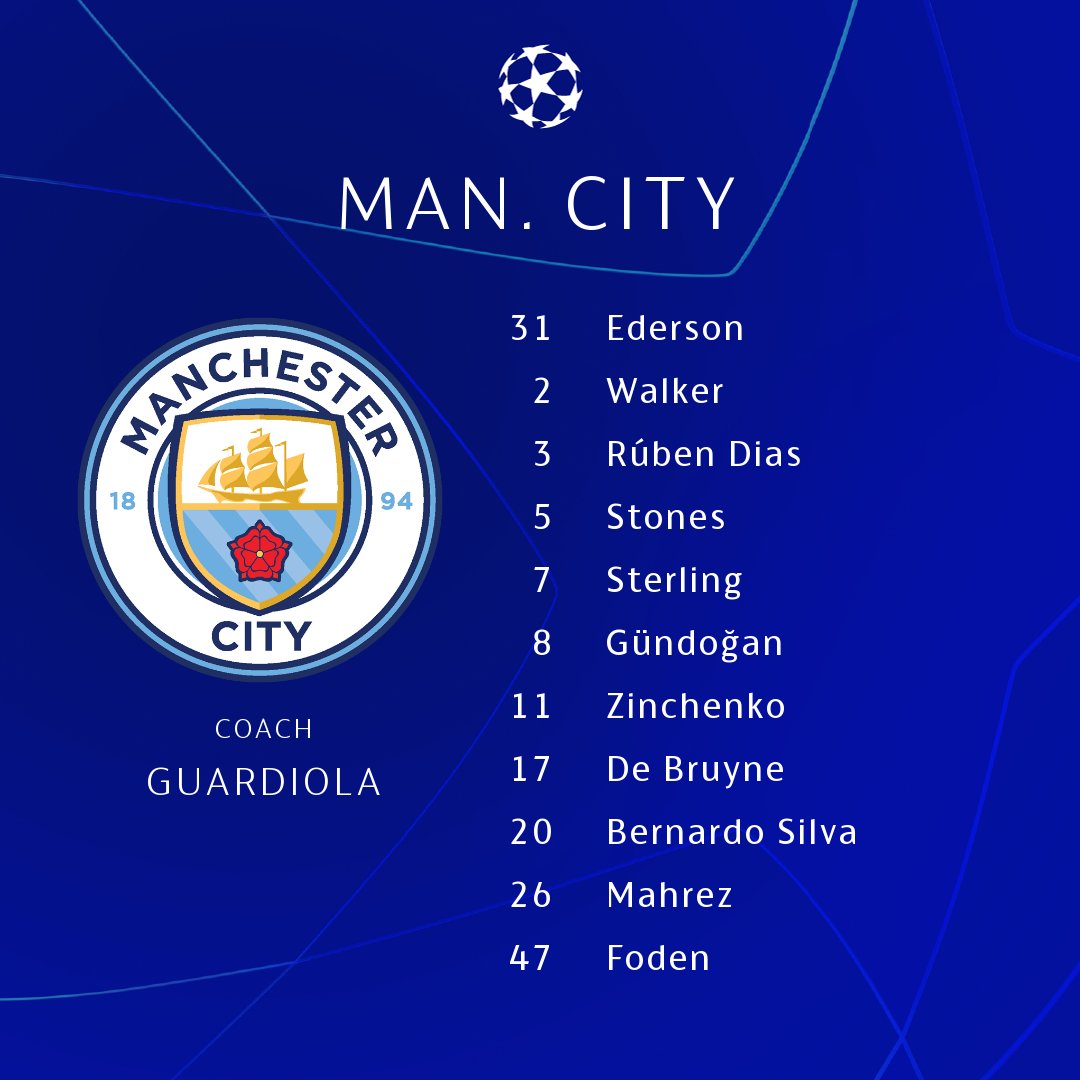 Line ups
Chelsea more or less seems to be going with their expected line up and formation. Pep has of course already been defeated by Tuchel this season. And he has opted for skill and finesse over control in the midfield. I think that is a very positive move. Creative players in the centre will worry Kante. I think whoever scores first is going to control this game till the end.
Tuchel: Seems totally relaxed. Back to back finals with two different teams, quite an achievement, that too coming mid season to a club. He is aware seeing the line up that Pep is going for something else.
This is super exciting, tactically as well as with the quality of the players on the pitch.
This is when me, a United fan, keeps hearing Ole going on and on about how if he had a pre season, he would be doing wonders. On a side note, Ole has just one more season to win me over. Personally, when it comes to being clinical, I think City will beat Chelsea. And I do not expect City to offer as many chances as they did earlier to this team.
This is interesting. All cards of creativity thrown in the midst of this game. Enough and more players with individual skills to break down Chelsea. Bring it on. Personally, I believe Sterling is a top top player. For a person who so consistently dribbles past players, his end product has always been debatable. But if he is in the mood, today is gonna be quite some game.
Kick off
Not a single player of either team is even looking at the trophy. They are ready.
Virtual ceremony in these pandemic times – disappointing of course, but that is how it is in 2021.
Spanish veteran refereeing team. All the best for neutrality.
David Pleat and Tony Jones on commentary.
First half
0: No to racism
City with all the ball. Chelsea looking to counter with pace. Engaging. Excellent long ball from Ederson to find Sterling at 8 minutes but James does well to clear it eventually.
10 min Werner misses another opportunity. Typical of him. Moments later a brilliant cross from Sterling, cut off in the last minute by Chilwell.
13 min: Two more quick chances for Werner but he has not made it count yet again.
25 min: Midway through the first half, it is fair to say, Chelsea has had the better chances in front of goal. But Sterling is offering a new dimension in this game and looks most likely to crack the Chelsea defense.
26 min: Foden with a beautiful chance, cut out with a last minute tackle from Rudiger. Quality safe football all around. Players playing with their heads.
29 min: Mahrez is one of the most effective players for City this season, but Chilwell has had him in his pocket till now. Walker with excellent pace to put in a cross. Sterling with an immediate attempt to follow. This is top top football.
35 min: A fluid break but it has been breathtaking end to end football. Thiago Silva seems to have tweaked something but I bet he would not be stopping. Are you also having the same feeling as I am? This definitely looks like a 1-0 final. Excellent defense. Will anybody be able to crack open this game? Let's wait and see.
39: It is sad to see any player having to leave the pitch with an injury. It does quite often happen towards the end of the season. We are able to catch a breath after the drinks break now. But it is a solid engaging battle in midfield.
42: Long ball, 3 passes, high line and a fortunate ball as Havertz tries to beat an oncoming Ederson. Fantastic composure up front and Chelsea take a rightful lead.
44: Werner of course, great position, gets a dink ball from Kante. Awful finish after great control.
Half time
Possession as expected was skewed to City. Both teams playing the high line, and the first to crack was City's line. Of course, when a goal is conceded, the debate begins on whether Pep should have started Fernandinho. Two players totally cut out of the game – Mason Mount and Riyad Mahrez. Two top players well marshaled by both defenses. The wing backs of Chelsea definitely more incisive. Chelsea midfield definitely playing more penetrative football.The front 3 of Chelsea offer more pace and have definitely drawn the defense out with their runs all throughout the game. Havertz offers a great focal point for aerial long balls, while Werner is ripping through all channels. A Pep masterclass needed to unlock this Chelsea defense. The bald wizard will have to make it happen. Let us see what they come up with in the second half.
Scoring a goal always involuntarily makes a team to sit back. Tuchel will be driving in exactly that point. To keep playing the way they are and to try to snatch a second on the break and then sit. City will definitely come all guns blazing. With great players, there is always a destiny. Will Aguero be the answer?
Second half
49: City has started positively, putting pressure deep in Chelsea half but they don't make the free kick count with a poor delivery. Chelsea happy to break quickly when the opportunity arises.
51: Kante yet again running the show in midfield and is frontrunner yet again for player of the match.
54: Chelsea just has a fitter faster team. And it is showing in the way they are bombing forward as a team.
55: Body check on De Bruyne intentionally by Rudiger. But it was his first half diving tackle that prevented Foden's attempt. Gundogan and Rudiger so far in the book. Unfortunate Kevin won't be able to get through this game.
59: Sterling shot hits chest and arm of James and VAR clears all handball shouts. City have lost bit of the shape with Jesus subbed in for Kevin. Chelsea looking potent to counter.
61: Bernardo Silva is off and Fernandinho is on. Change in shape. Default city mode. Now we have a game on.
66: Werner's game is done. Pulisic is on. Akin to two different teams now. In for some fascinating battles in the second half of this game. Expecting more cards as 50-50 challenges are rising and players are more committed.
67: A fantastic run by Foden cracks open City and Mahrez cross last minute defended by Caesar. Such fine margins. Caesar gets a contact injury over medial left knee. looks more like an impact injury. Did not notice any untoward weight transfer to cause any ligament injury. Unsurprising Caesar is back up.
70: City probing but unable to pick a way through Chelsea's solid defense. Essentially defense versus attack.
72: Pulisic on the break one on one versa Ederson, but latter makes himself big and prevents what seemed like a clear goal scoring opportunity.
73: Sterling bursts through, Jesus doesn't connect. Ball doesn't get to Mahrez. They are coming close.
75: Now that Werner is off the pitch, the out ball is no longer there. So keep ball lot harder.
76: Sterling makes way for Aguero. Is this the moment?
78: Stones looking to switch hooves the ball out of play and pressure is off Chelsea.
79: Mason Mount is off. Kovacic on as Chelsea looks to seal off this game defending.
81: Chilwell buys a free kick off Walker with his step overs. Good ball in, but City defends the first ball well.
83: Fernandinho gives a good challenge on Rudiger, unsurprising. Two strong players.
84: Cross from Walker, finds Aguero, but he is unable to churn a chance. Again a beautiful floated cross from Walker, it's getting more anxious in the last minutes.
88: Chelsea players looking to play for time trying to buy free kicks. Havertz has been a rock up front.
89: Cross across the face of the goal but Chelsea defense solid, no clean strike on goal.
90: 7 minutes of added time, most of which due to Kevin's head injury.
90+2: Second ball does not fall for any City players. Chelsea players buying time for every free kick they get.
90+4: Rudiger buys a foul and Chelsea kill time.
90+6: Long throw from Walker, second ball falls for Mahrez's right foot and it flies just wide.
Full Time
Chelsea are champions. What a game. Tuchel, take a bow. Two successive finals, two different teams. Wins it with the second team. Pep has been outplayed. This was no fluke. Deserved win. They spent every last breath to outplay City.